Brave New Word
A new word has been discovered! About time, I hear you cry, this English language of ours has been on stop for centuries. If only such a thing as the evolution of language existed... This brand new word was found, quite by accident, in the backyard of a retired maths teacher of all people. Check your backyards, people, we could double the size of the dictionary by the end of next Tuesday!
Mr Longjohn, from Sheffield, spotted the word whilst he was in his backyard teaching quadratic equations to an assorted gathering of garden bugs. "I miss the maths, you see, so I offer free lessons to anyone who's in my garden," said Mr Longjohn. "Although, they're not the brightest of students, and they don't pay attention no matter how many times I cane them."
It was when Mr Longjohn was giving lines to a particularly disruptive student who was mounting a classmate, when he spotted something shuffling around on the blackboard. He couldn't believe his luck - it was a new word!
Mr Longjohn excitedly told his son, Mr Longjohn, the exciting news and together they excitedly informed the Government's new words department, the aptly named New Words Department, and the proverbial ball was now rolling. Mr Longjohn's son Mr Longjohn explained: "This is a great discovery and should be shared with the world." Mr Longjohn's father Mr Longjohn, agreed with his son, Mr Longjohn: "My son, Mr Longjohn, is right - this is a great discovery and should be shared with the world."
Mr Longjohn was eager to use the new word but had been told to wait due to strict Government laws preventing premature use of new words. A spokesperson from the New Words Department explained: "The word must be released into society in a controlled manner to ensure public safety and prevent mass panic. Any deviation from the recommended course of action may result in the total annihilation of all life forms on this planet. However, I stress the word 'may' in this instance."
The New Words Department have announced that the new word will be revealed to the public next month after the relevant background checks and safety procedures are completed. The official unveiling ceremony will be held at the We Are All Badgers office and will be hosted by special celebrity guest and fellow word-user Peter Andre. The singer, famous throughout the world after marrying a pair of giant breasts, tells us he's used hundreds of different words in his lifetime and is looking forward to the challenge of learning another one.
We Are All Badgers has acquired an exclusive photo, displayed below, of Peter Andre congratulating a proud Mr Longjohn on his discovery at the official unveiling ceremony. We have some doubts as to its authenticity, mainly due to the fact that the ceremony hasn't actually taken place yet, but we'll give it the benefit of the doubt. The photographer informs us he's got more exclusive photos of next month's unveiling ceremony featuring famous faces such as David Beckham, Jimmy Carr and the late Mahatma Gandhi deep in conversation with Peter Andre.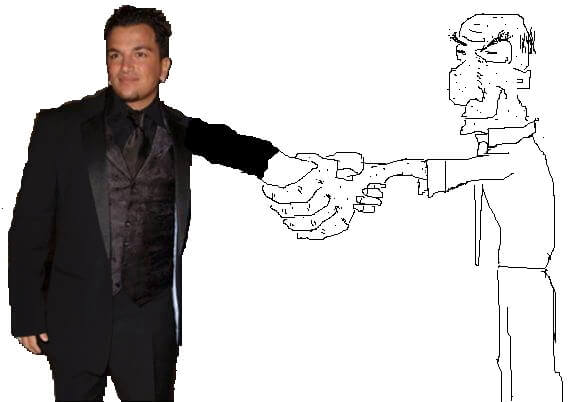 Mr Longjohn, now somewhat of a celebrity in his hometown, has been inspired by his experience to write a novel and is planning on penning a 1950s-set comedy-horror murder-mystery using only the new word and the equation y = x + 12. Several major publishing houses are reported to be not interested.
Return Home